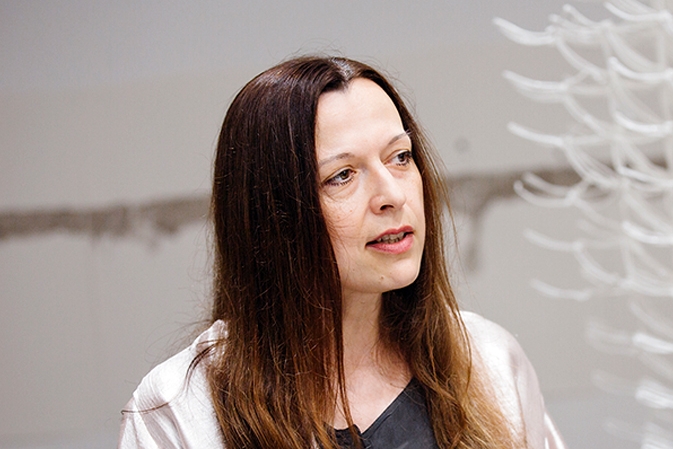 Vlatka Horvat works across a wide range of forms, namely sculpture, installation, drawing, performance, photography, and text, and presents her work in various contexts — in gallery spaces, theatre and dance festivals, and in public space. She has had solo exhibitions at Renata Fabbri arte contemporanea (Milan), Museum of Contemporary Art Zagreb, Wilfried Lentz (Rotterdam), CAPRI (Düsseldorf), Zak|Branicka Gallery (Berlin), Museums Sheffield, Disjecta Contemporary Art Center (Portland), MMC Luka (Pula), Galerija SC (Zagreb), annex14 (Zürich), Boston University Art Gallery, Rachel Uffner Gallery (NYC), Bergen Kunsthall, the Kitchen (NYC), and Galerija Nova (Zagreb).
Her recent commissions include a 3-month-long performative project for the Art in the Public Space program of the City of Zurich, a series of interventions in a dis- used flower shop storefront for VOLT (Bergen), and installations for Bard Center for Curatorial Studies (Upstate NY), Bunkier Sztuki (Krakow), Marta Herford Museum, MGLC Ljubljana, Kunsthalle Osnabrück, the 53rd October Salon (Belgrade), Stroom (The Hague), "Greater New York" at MoMA PS1 (NYC), MGLC and Galerija Skuc (both Ljubljana), Aichi Triennale (Nagoya), and the 11th Istanbul Biennale.
Horvat's performances have been presented at numerous venues and festivals, including LIFT — London International Festival of Theatre, KAAI Studios (Brussels), HAU — Hebbel an Uffer (Berlin), Fondation Cartier (Paris), INKONST (Malmo),Tanzquartier Wien, Malta Festival (Poznan), Teatro Maria Matos (Lisbon), Meteor Festival (Bergen), PACT Zollverein (Essen), Haus der Kulturen der Welt (Berlin), Alkantara Festival (Lisbon), Tanzquartier Wien (Vienna), Clockshop and Outpost for Contemporary Art (both Los Angeles, CA), the Jerusalem Show (Jerusalem and Ramallah). She holds a BA in Theater from Columbia College Chicago, an MA in Performance Studies from Northwestern University (IL, USA), and a practice-based PhD from Roehampton University in London. After 20 years in the USA, she is currently based in London, where she teaches in the Fine Art department at Central St Martins. Her work in visual art is represented by galleries annex14 (Zurich) and Renata Fabbri arte contemporanea (Milan).